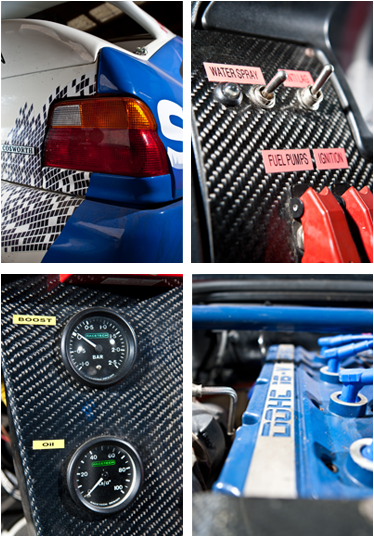 Brands Hatch Stages - 22nd Jan 2012 -The team were seeded at 20 as the opposition was huge due to the event pulling in crews from all around the country, as it's such a prestigious venue.
The weather for the event was dry, but cold, which although is good for pulling in the spectators to watch, it's not the best thing for the Red Dragon I.T. Rally Team. If it was wet the 4-wheel drive would give us a huge advantage against the very quick field of rear wheel drive MkII Escorts. The other challenges for the Team would be coming from a strong field of 4-Wheel Drive cars such as Mitsubishi Evo's and Subaru Impreza's.
The first stages went well and Gareth confirmed that the car was on song and well setup after her extensive rebuild over the last year. Due to noise restrictions the crew couldn't use the anti-lag system but the power range and torque was good, none the less. After the first 4 stages the team were 4th in class and in the top 20 and getting in to a good rhythm.
Gareth and Emlyn announced themselves happy and were going to push for at least 3rd in class. As the darkness set in the team pulled out all the stops as 2nd in Class was not far away! The time was spectacular and enough to get them to the finish 17th Overall and an amazing 1st in Class. A great event and a great result....
Next Event Belgium - dates to follow soon! In the mean time make sure you get March edition of Fast Ford Magazine as the team are in it!